Two years ago I wrote a blog and created a video based on the prediction that in two years (which is now) 74% of all internet traffic would be videos.
It was believed at the time that if you embed videos into your blogs you would receive 3 times as many inbound links as you would if your blogs did not contain a video (SEOmoz).
Well, we're 2 years older and wiser and indeed things have changed. Not sure if the percentage is in fact 74% but if it isn't it's pretty damn close.
What I do know is that video has grown exponentially in its importance to not only our own businesses but to the many companies and services that we use.
In that time all major social media platforms have not only incorporated videos into their platforms but have also added live streaming as well.
In fact, a few years ago Mark Zuckerberg announced that "In five years, most of Facebook will be video," Although it isn't yet, video does take priority over all other posts on Facebook today.
So if you're still debating on whether you should invest your time, energy or money into video marketing or if you aren't sure what video marketing can do for your business, then let's explore the possibilities shall we?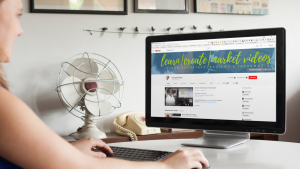 I don't know about you, but I've heard the following statements before and can attest to them happening to me as well. So if you're on the fence, then you need to listen up now.
"I grew my email list using my YouTube channel."
"I'm making money on my YouTube channel."
"I'm working with several clients that found me on YouTube."
The most common response I receive when speaking about video marketing is: "I'm not sure I'm ready for YouTube."
This comment is a direct result of not understanding the purpose of YouTube or how to effectively use YouTube so that it can benefit your business.
If you're an entrepreneur and you're not using YouTube because you're not sure if it's a platform that you should be on, below are four questions to ask yourself to determine whether or not you're ready to start using YouTube and video marketing in your business.
Before we get into the questions, here's why YouTube is so important:
#1 – It's the best place for you to get found by non-subscribers who most likely have never heard of you
#2 - It's a great platform for you to show off your expertise
#3 - You can use your content to educate your audience with helpful information, to inspire with stories and to entertain if you have a great personality or have amazing content you wish to share.
Now, on to the four questions you need to answer for yourself:
Are you an entrepreneur or small business owner?
Every business owner, regardless of size, can benefit from using videos in order for their audience to get to know, like and trust him/her, as well as get a clear understanding of the services and products the company offers.
Does your company solve a problem or pain point that your ideal audience is struggling with and desperate to solve?
When deciding whether or not videos and, in particular, YouTube can help you, the most important question to ask is what is the problem or pain point that your ideal audience is suffering from?
In the course of your business day, are you ever asked the same questions over and over?
Most online entrepreneurs with websites have an FAQ page on their site. This enables us to address common questions and, in some instances, objections that our prospects may have before they've even met us. Maybe you have a social media platform where you engage with your audience and answer their questions there as well. If so, then why not take this opportunity to allow your prospects to get to know you and your expertise even better by creating videos that answer these questions?
Does your ideal audience know how your product or service can help them solve their problems?
Do you have a service or a product that can help your prospects save time, money, help them better their lives in some way? If so, videos can help demonstrate how you and your company can help them.
After all, 65% of the population are visual learners and 30% are auditory learners. By using video as your medium, you are covering a large swath of the population.
You should now know, based on your responses to the questions above, whether video marketing and YouTube is right for you. If you're still not sure, consider this: YouTube is the second largest search engine in the world. It's also owned by Google which means your YouTube videos will show up in Google search results. Your content can be found today, tomorrow, next week, next year or years from now without you doing anything after your initial upload and optimization.
I encourage my colleagues, clients and prospects to embrace video and YouTube because video is a powerful tool that can elicit an emotion from the viewer in a way that text alone cannot.
If you need help deciding if YouTube is right for your business, start by downloading this free questionnaire and checklist. that will help you figure out what you need to know to decide.
Edie Clarke is a Video Marketing and YouTube strategist who helps entrepreneurs and small business owners engage with their audience and create brand awareness using videos and YouTube. To learn more about Edie and the services she offers visit http://edieclarke.com.