We've seen it time and time again. A company launches a new product or service or updates their tagline or mission statement. What comes next? They need to update their logo, signage, and/or online presence to incorporate those changes.
Updating your brand doesn't mean you're completely changing the face of your business — you're simply making it more effective and relevant.
So how do you know if it's time for a brand update? If your brand/logo is outdated or no longer relevant to who you are and what you do, it's time for a change.
Reevaluating Your Brand
Are you answering the same customer questions over and over again? Do people not know exactly what you offer or what you do or what makes you stand out from your competitors? Then it's time to reevaluate your brand. Your brand needs to speak to your target audience, but you also need to be accessible to any potential customer. Whether it's to raise awareness of your company in general or to highlight a new offering, you need to make your brand stand out.
Another reason to reevaluate your brand is when you're going through an organizational change. Under new management? Have you been acquired or did you acquire another company? When an organization changes, its brand often changes with it. Show people what the "new" company is all about with an updated brand.
Any kind of change can be a catalyst for a brand reevaluation. When your industry evolves, you need to evolve along with it. If the way you do business changes — or if the way your customers think, buy, or operate changes — you need to update your brand to keep up with those changes. Don't let a changing business landscape leave your organization in the past.
Before you go through a brand reevaluation, the Enterprise Risk Management Academy (ERMA) suggests that you ask your brands these five questions.
Expansion Plans Led This Company to Update Its Brand
Andersen Concrete Pumping is a 25-year-old company in South Holland, Illinois, specializing in new concrete pumping projects as well as alternations and renovations. Early in 2017 they made the decision to expand their reach beyond the Chicago, Indiana, and Iowa markets they serve. They set up a second location – an equipment facility – in order to serve the Northwest suburbs of Chicago in a faster, less expensive manner than they were able to do in the past. Yet as a virtual unknown in that area, the company knew they needed to boost their brand and beef up their marketing efforts to pave the way for generating new business.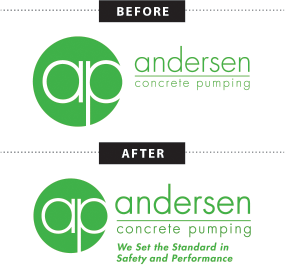 The first step was to increase the effectiveness of their logo with the addition of a tagline. The tagline they opted for (we provided several choices) was We Set the Standard in Safety and Performance. It speaks to the strengths and successes they're known for among existing customers.
While the logo changes were in process, so were updates to their website. New content was added to emphasize their certifications and safety measures, and their gallery of photos from projects throughout the Chicago area was expanded. In addition, they will soon launch an email marketing and communications program to keep in touch, share safety information, and showcase their accomplishments with their target audience.
Updating Your Brand: Refresh or Redesign?
When updating your brand, you can go two ways. You can apply makeup, or go for a full facelift. A brand refresh means changing colors, adding messaging, switching fonts, or simplifying your design. A brand redesign means you're changing everything — reinventing your brand to make it more sophisticated, modern, dynamic or suitable for your audience.
If your brand is strong and recognizable, you want to hold onto that identity. Just like Andersen Concrete Pumping, you can refresh your brand with updates while keeping your identity.
On the other hand, if your brand isn't connecting and resonating with your target audience or is misrepresenting your company with confusing, conflicting, or inconsistent messaging, it's time for a redesign.
Either way, you can change your brand without alienating customers. This article from SmartCompany details how discount supermarket chain Aldi redesigned their brand without shocking their customers.
How to Know When it's Time for a Change
Whether it's a refresh or a full redesign, when it comes to updating your brand, you have to know when the time is right. As mentioned, launching a new product or service is a great time for updating your brand. So is when you are going through organizational or industry changes. But there are other signs that it may be time for a change.
Are you getting lost in the shuffle? Do you feel like you're just spinning your wheels? If you're not connecting with customers anymore and no one is listening to or responding to what you have to say, it's time for a change. What's your place in your industry? What value are you delivering? What resonates best with your customers, clients, and industry? What can you do to affect change and make a difference? Answering these questions will help you shape your brand and position you for success in the future.
Have you become complacent? It can be easy to remain in your comfort zone, but the more stagnant you are, the more you'll gradually lose your audience and market share. Updating your brand can be risky, but if you never leave your comfort zone, you'll never truly grow. Don't wait for your brand to become outdated, or worse, extinct. Take your time, assess and evaluate everything, and take calculated risks. You might just take your brand — and your business — to heights never before imagined.
Again, updating your brand doesn't mean you're changing your whole identity. It's repositioning your company to better serve your employees, customers, and industry as a whole.
If you need help updating your brand, contact CC Marketing and Communications today.